Object tracking and recognition
In case of a moving camera, with partially unknown camera movement, in scenes with many moving objects a pixel based motion detection is usually not reliable enough. The visual motion does not correspond directly to a moving object. For a robust object motion estimation a model-based processing scheme can be applied. The stabilization of object hypotheses and consistency evaluation of multiple hypotheses is performed by means of adaptive methods. My approach to object detection and tracking for car driver assistance has been published in several papers, for example at IAPR Workshop MVA 1996 or in the MG&V journal.
Here is an example how a simple 3-D object model can already lead to proper moving object detection and true motion estimation: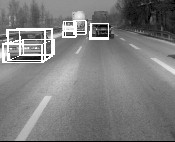 MPEG movie.