Research
Model Predictive Control (MPC) algorithms
In the classical Proportional-Integral-Derivative (PID) controllers the control signal is a linear function of: the current control error (the proportional part), the past errors (the integral part) and the rate of change of the error (the derivative part). The PID controllers, in particular when used for processes with one input and one output, are very successful provided that properties of the process are (approximately) linear and the time-delay is not significant. In the basic version of the PID controller no constraints are imposed on the manipulated variable. The majority of industrial applications, however, are multivariable by nature and the constraints imposed on both manipulated and controlled variables must be taken into account. In such cases the PID algorithm does not lead to satisfactory control accuracy.
In Model Predictive Control (MPC) algorithms not the current control signal, but a future control policy is successively calculated on-line from an optimisation problem which takes into account some predicted future control errors. An explicit dynamic model of the process is used for prediction. The MPC algorithms are said to be the only one among advanced control techniques (usually defined as techniques more advanced than the PID approach) which is tremendously successful in practical applications, exerting great influence on directions of development of industrial control systems as well as research in this area. It is because the MPC algorithms have a few important advantages, the most important of which are:
good control quality,
it is possible to take into account constraints imposed on the input variables, on the predicted output variables and (or) on the predicted state variables,
it is possible to control efficiently multi-input multi-output processes,
it is possible to control "difficult" processes i.e. with significant time-delays or with the inverse step-response,
it is possible to take into account the measured disturbances and future changes of the set-point trajectory,
the principal idea of MPC is straightforward, tuning is relatively easy.
Computationally efficient nonlinear MPC algorithms
If a linear model of the process is used for prediction in MPC, the resulting optimisation problem is of quadratic type, which means that it may be easily solved on-line by means of available solvers (the active set method or the internal point algorithm can be used). The MPC algorithms based on different classes of linear models (the linear MPC algorithms for short), for example Dynamic Matrix Control (DMC) and Generalized Predictive Control (GPC) ones, are frequently used in numerous advanced industrial applications, in particular in the refinery, petrochemical, chemical, paper and food processing industries. The industrial applications of MPC algorithms made a revolutionary breakthrough in process control since they make it possible to efficiently control multi-input multi-output processes. Furthermore, all the constraints may be taken into account in a systematic way, satisfaction of which is usually of key importance.
Unfortunately, properties of many technological processes are usually nonlinear. The linear models are usually not able to precisely describe behaviour of nonlinear processes. In consequence, the linear MPC algorithms do not give satisfactory control quality. In such cases it is reasonable to use nonlinear MPC techniques, in which nonlinear models are used. When a nonlinear model is directly used for prediction, one obtains a nonlinear optimisation problem which must be solved at each sampling instant on-line. Disadvantages of such a method are: significant computational complexity and no guarantee of finding the global minimum within the sampling time.
Suboptimal nonlinear MPC algorithms with on-line linearisation are interesting alternatives to the computationally demanding MPC approach with on-line nonlinear optimisation. In the simplest case a linear approximation of the nonlinear model is successively calculated for the current operating point and used for prediction. A linear approximation of the predicted (output or state) trajectory around some assumed future control trajectory is found in more advanced solutions, it is also possible to repeat nonlinear prediction and trajectory linearisation a few times at each sampling instant.
All the suboptimal MPC algorithms have two important advantages: computational efficiency and good control quality. Firstly, thanks to model or trajectory linearisation, they result in quadratic optimisation problems, on-line nonlinear optimisation is not necessary. It is also possible to develop some explicit versions of the suboptimal MPC algorithms, in which a matrix decomposition task is carried out and a system of simple linear equations are solved in place of quadratic optimisation. Secondly, as the results of research carried out clearly indicates, for numerous significantly nonlinear processes, such as chemical reactors and distillation columns (for which the classical linear MPC algorithms do not work satisfactorily), the trajectories of the suboptimal MPC algorithms are very similar to those obtained in the "ideal" nonlinear MPC with nonlinear optimisation repeated at each sampling instant.
The developed computationally efficient suboptimal MPC algorithms are universal, because it is possible to use for prediction different model types, e.g. polynomials, neural networks, fuzzy systems, Volterry series, Support Vector Machines (SVM), it is only necessary that the model is differentiable. In particular, perceptron-type neural networks (and their derivatives) are interesting. They have numerous advantages, the most important of which are: excellent accuracy (perceptron neural networks with two layers are universal approximators), a relatively low number of parameters (especially when compared to other models), a simple structure and a great number of efficient training and structure optimisation algorithms.
The suboptimal MPC algorithms, in particular the MPC structures based on neural models, are thoroughly described in the book:
Maciej Ławryńczuk: Computationally efficient model predictive control algorithms: a neural network approach, Studies in Systems, Decision and Control, t. 3, Springer, 2014.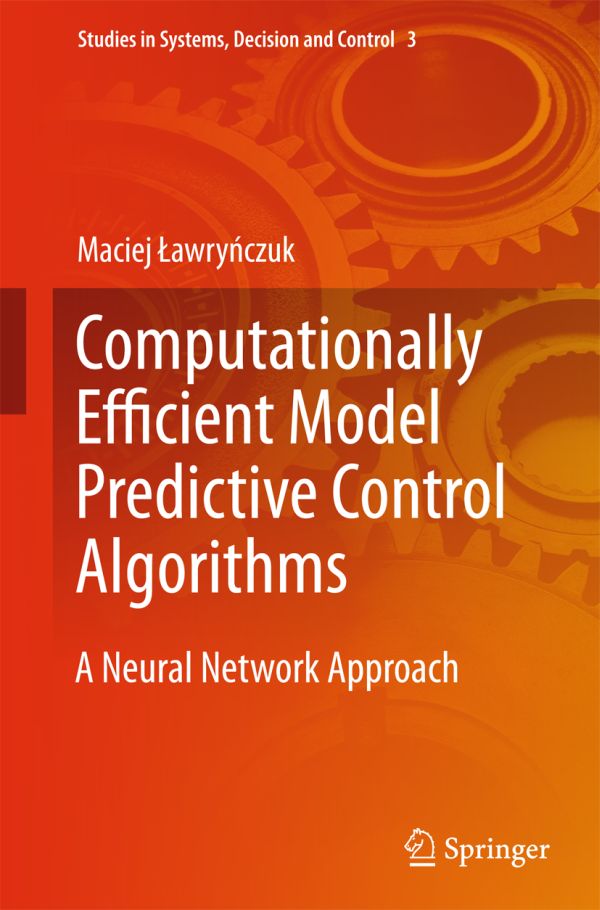 The subjects treated include:
A few types of suboptimal MPC algorithms in which a linear approximation of the model or of the predicted trajectory is successively calculated on-line and used for prediction.
Implementation details of the MPC algorithms for feedforward perceptron neural models, neural Hammerstein models, neural Wiener models and state-space neural models.
The MPC algorithms based on neural multi-models (inspired by the idea of predictive control).
The MPC algorithms with neural approximation with no on-line linearisation. The explicit versions of those algorithms are particularly interesting, because the neural approximator directly determines coefficients of the control law.
The MPC algorithms with guaranteed stability and robustness.
Cooperation between the MPC algorithms and set-point optimisation (implementation details of some computationally efficient control system structures are given for different neural models).
Keywords: process control, Model Predictive Control (MPC), set-point optimisation, nonlinear models, neural networks, optimisation